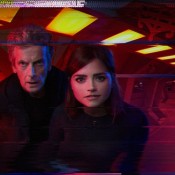 "You must not watch this."
It's the opening line of Doctor Who's episode "Sleep No More," and everyone should totally heed it: turn it off, delete it from your DVR, and find yourself a better story to watch. Or get a snack. Or go to bed. Just don't put yourself through this nightmare of an episode.
The following contains spoilers. I'm providing them as a public service to save you from having to watch this story.